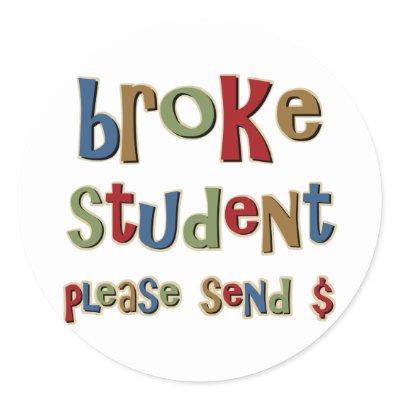 We all love making easy money, and for the college student, there is no easier way to accomplish that goal than by selling class notes. In my quest for extra cash, I have discovered that
Selling Class Notes
for Cash, has been the easiest and most profitable source of supplemental income so far.
I usually type up class notes and study guides before each test. This is my tried and true study method. I find that typing up the notes forces me to organize and categorize the information, thus making it easier for my brain to retain the info for the test.
I typed up the notes for my Principles of Real Estate test last week and decided this was the perfect situation to test my experiment. My Real Estate class is a night class with only 9 other students enrolled. Many of these students are older and very pressed for time. If anyone would buy my notes, it would be someone who didn't have the time to prepare, and someone who had the money to shell out for a study guide.
I typed up the notes very neatly, being careful to maintain correct spelling and grammar, and separated them by chapter. I also looked online for the answers to the end of the chapter quiz questions. I also typed up some practice fill in the blank questions.
It was easy to market the product (my notes) to a smaller group of students. With a smaller group of students, I was able to talk with them on more of a one on one basis. The notes were packaged neatly and looked very professional. It also helped that I had over a 100 A average in the class. A point that I made very clear when trying to push the sale. It cost me nothing to print them out, and I decided to sell them for $5.00 each.
I also advertised that I had notes with a study guide to sell through class email 4 days before the intended sell date. This gave buyers a heads up to bring the money with them to class. I also broke a $20.00 and brought the change with me to class. I didn't want to lose a potential sale by not having change to break large bills.
So what was the outcome?
I sold ALL my class notes in one sitting. I earned an EASY $35.00! That is complete profit.
Yes it took time to organize, type, package, and advertise, but I was going to do most of that anyway for myself.
Selling Class Notes
is a profitable and easy way to make extra money. Students are willing to pay you to do the hard work for them. All you have to do is print it out and sell it!
I give Experiment #5 - Sell Class Notes for Cash two thumbs WAY up!
Have you ever sold class notes for cash? How did it work out for you?
Do you have any suggestions or hints for maximizing profits?
Like this article? Please let me know!
Good Luck
Emily